Theresa Kufuor Meets Women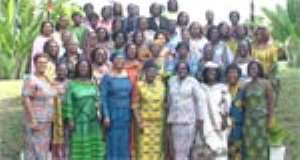 IN WHAT COULD be described as 'ladies galore', a bevy of beauties gathered in the gardens of the building that serves as the seat of government.
The ladies, comprising the wives of presidential aspirants of the New Patriotic Party (NPP) and the Convention People's Party (CPP), wives of ministers and deputy ministers, female ministers and the women's caucus of Parliament, were at the castle, Osu, on the invitation of the First Lady, Mrs. Theresa Kufuor.
Though they kept the First Lady waiting for hours on end, the Castle Garden was eventually filled to capacity with beautiful ladies beaming with smiles who exchanged pleasantries with both the First Lady and Hajia Ramatu Mahama, the wife of the Vice President, as and when they came in.
When they were all seated, they were informed that the main aim of the gathering was to give them the opportunity to interact with Mrs. Kufuor as well as each other.
Before taking turns to serve themselves with the assorted drinks and food that were boldly displayed, the First Lady in a welcome address, said while the government made determined efforts at gender mainstreaming, it was important that women themselves took steps to ensure that they were not marginalized.
Mrs. Kufuor said she was impressed with the increase in the number of women elected to Parliament and those elevated to ministerial positions.
"I am proud of all of you and I hope many other women would take the mantle and contribute to the development of our country."
Flanked by Hajia Ramatu Mahama, the chairman of the parliamentary women's caucus, Mrs Eugenia Kusi; Ms Cecilia Dapaah and Ms Theresa Amerley Tagoe on the high table, Mrs. Kufuor noted that women were doing a lot of work which was normally not recognized, and encouraged those in political positions to not only serve as role models but also mentor other young ladies to further expand their frontiers.
This, she said, demanded total commitment and the maintenance of high standards in their interactions with their colleagues as well as the overall output in their jobs.
She said, she had every reason to believe that by so doing, they would one day look back and say, "It was worthwhile."
To the aspiring First Ladies, she said the task they were about to undertake was a difficult and challenging one.
"It could be chaotic at times," she stated, adding that she was confident that they understood their responsibilities and would contribute positively to the endeavours of their husbands.
By Emelia Ennin