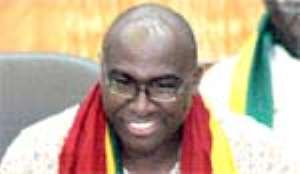 HON. PAPA Owusu Ankomah, a New Patriotic Party (NPP) presidential aspirant, has stated that when he is elected flagbearer and eventually the president of the country, he would ensure that his vice plays an integral role in his administration.
"My vice will work to consolidate my efforts to ensure a better and prosperous Ghana. When I am in the northern part of the country, he will be in the south working and his services will be felt by everybody," he noted.
Speaking on Fox FM in Kumasi, Papa Ankomah said as president, he would work hand-in-hand with his vice to speed up the country's developmental aspirations, stressing that he believed in team work.
He contended that when he becomes president, he would make provision for every citizen irrespective of their ethnic, religious or political backgrounds to contribute to the country's development.
"Whether you are from the NPP, NDC, CPP or wherever, your positive contributions towards the betterment of the country would be welcomed by my administration."
The NPP presidential aspirant observed that Ghanaians were one people with a common destiny, hence the need for them to bury their political, ethnic and religious differences and work together to accelerate the country's development.
When Ankomah becomes president, he would put in place good mechanisms and policies to make the country prosperous.
He therefore appealed to potential delegates of the party to choose him their flagbearer in the upcoming delegates' congress, since he is the right person to continue the good works of President Kufuor.
"President Kufuor's administration has done a yeoman's job for the country, and it is time a person like me is elected to fill the big vacuum so as to sustain the country's current path to glory," he remarked.
He promised to move the country from its current 87th position and place it on the 50th position in the world business transactions and affairs, pledging to make Ghana a conducive place to do business in the West African sub-region.
Interestingly, Papa Ankomah's campaign theme is "Leading A Cohesive Party To Unite Ghana Behind A Transition Agenda of Exemplary Leadership And Excellence In All Spheres".
He promised to execute an agenda that would inculcate the spirit of excellence in the Ghanaian, saying he would improve the decentralization process and create economic zone particularly "in the Afram Plains which will be devoted to agriculture and agro-processing".
He hoped to ensure a better Ghana during his tenure as president, adding, "Ghanaians would have value for their money under my presidency".
From Fred J.A. Ibrahim Jnr., Kumasi