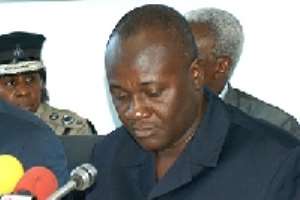 Mr. Dan Botwe, an NPP Presidential aspirant has described himself as the most credible and politically matured to lead the party to another resounding victory in the 2008 elections.
He explained that since 1981 he had been active in the workings of government and he played second fiddle to no one with regards to the wealth of experience "that one needs to possess to lead the country into prosperity".
Mr. Botwe was interacting with newsmen in Sunyani after a second campaign tour of Brong Ahafo.
"We're looking for leadership with integrity, a result-oriented personality who can harness the talents and natural resources of the country for the benefit of all Ghanaians and I believe I have prepared myself well for the leadership", the aspirant and a former Minister of Information added.
Confident-sounding Mr Botwe said he believed in service to the people, had amply demonstrated that throughout his 25 years in politics and was ready to continue to offer selfless leadership.
"Politics is all about improvement in the lives of the people and I have the passion to achieve this", he said, adding that he was the longest serving and fully active member of the New Patriotic Party".
The aspiring NPP flag bearer said his two-term in office as the General Secretary of the party in opposition and a term in power had moulded him to have a good insight into the workings of government "and in making the choice it should be Dan Botwe".
The aspirant, who was NPP General Secretary to chalk three memorable victories over the National Democratic Congress (NDC) in 2000, the run-up in 2001 and then in 2004, emphasized that he still kept faith with the foot soldiers.
"The strategies are there, the enthusiasm is still there and no matter the disillusionment among them they are still with me and ready to go with me to inflict another decisive victory over the NDC in 2008", Mr Botwe said.
He stressed that the NPP needed a leader who would amply prosecute its manifesto in government, someone who had kept faith with its tradition and a champion of its cause, adding, "the delegates know I am, so can entrust the progress of the party and the country in my hands".