World Bank approves aid to Ghana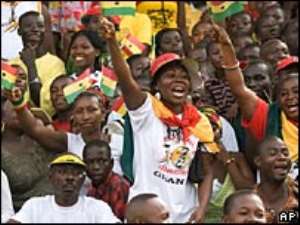 Ghana's ambitions to become middle income are attainable, World Bank says
The World Bank has approved a £110m (£54m) aid package to Ghana to help the country raise living standards.
The money will boost Ghana's chances of halving 1991 poverty rates of 51.7% within a year, World Bank's Ghana representative Mats Karlsson said.
It comes as the country celebrates 50 years of independence from British rule amid mixed reviews on its economic progress.
Its success in reducing poverty could be at risk by an ongoing energy crisis.
Middle income status?
The population living below the bread line in Ghana has dropped to 28.5% in 2005 on average, from 39.5% in 1998 and more than 50% in 1991, according to a report released by the Ghana Statistical Service.
But the survey indicated the poorest part of the west African country in the northern savannah region had been left out of the national poverty reduction trend.
The community there accounted for more than 50% of Ghana's poor in 2006, though making up just a quarter of the 22 million population.
Mr Karlsson said the World Bank loan would support Ghana's stated reform strategy, with plans to increase credit to the private sector and school enrolment rates.
But he cautioned that the country's economy was at greatest risk from the unreliable distribution of electrical power, which has caused companies to shut and could cost the country millions of dollars.
"The government needs to move quickly to minimise this risk, by dealing decisively with the energy problem in a sustainable manner," Mr Karlsson said.