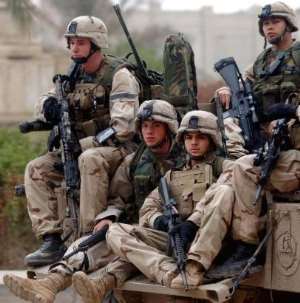 ...As US sell Africom to other African countries
THE Minister for Defense, Dr. Philip Kwame Addo Kufour, last week displayed his ignorance concerning military matters when said on an Accra based radio station that anyone who has knowledge of an American Military base should show him where it is situated.
The Minister who was reacting to a story in "The Insight", denied the existence of such a military base but admitted the Ghana Armed Forces have had some military co-operation with the American military.
Dr. Addo Kufuor, who still think of the military in terms of troops, did not know that the American did not need to station troops in Ghana to have a base here. In this day and age, the military has become highly technical and with America's advanced technology, all they need in the country is to assembly a few military computer in Accra and they would have all the military in the sub-region under their control.
Ever since the Ghanaian media broke the news that the United States of America (USA) is building a military base in Ghana, the President, John Agyekem Kufuor, his brother, Dr. Kwame Addo Kufuor, the Defense Minister and a host of Government spokes persons have all denied stories about the US plans to build a military base on Ghanaian soil.
They have all this time maintained that some military "facilities" flown secretly into the country were meant to be used in some kind of joint military exercises.
But truth, like the ckock, can not stay under water for long, because as it is pressed down the water, it quickly jump to the surface as soon as it is released and that is how the truth with the US ambition of building a military base in Ghana has been exposed by no less a person than the United States' principal deputy under Secretary for Defence, Ryan Henry.
Ryan Henry was in South Africa and met with government officials last Tuesday to inform them of plans for the US military's new Africa command.
The Principal Deputy Under Secretary for Defence, is on a six-nation African tour to try to convince governments on the continent that there is nothing sinister about the proposed US Africa Command, or Africom as it would be known.
According news report received by your authoritative "Ghana Palaver", Mr. Henry had at a closed briefing for some South African reporters, emphasized that "It (the military base) would not be focused on fighting wars, it will be helping countries on the African continent build the capabilities of their militaries,".
Mr. Henry however admitted that there were some concerns among African leaders, but these were mostly based on misconceptions, "Once we cleared the misconceptions, the attitudes were generally positive," he said.
In February, the US's President George W Bush approved a Pentagon plan for a command centre for Africa to oversee US military activities on the continent. African ambassadors have already been briefed about the plan in Washington.
Henry and a team of US defence officials are now visiting key African states including Nigeria, South Africa, Kenya, Ethiopia, Ghana and Senegal to "sell" the plan.
Further visits are planned for later in the year.
In Pretoria, Mr. Henry met Defence Secretary January Masilela, senior SA Defence Force officers, and foreign affairs officials.
He emphasised that Africom, unlike other US Commands, would not be focused on military matters only.
"Security is a much broader discussion now than just military activity," he said.
It would be unique among US commands in having a civilian staff component, and the second in command would be a high ranking US State Department (foreign affairs) official.
Henry said the command would be headed by a four-star general. The location of the command was still being discussed.
He said some African countries have already indicated their willingness to host the command post.
"Some countries have come forward, and one or two said they don't want us. We don't want our people anywhere, where they are not wanted, so we would not go anywhere we were not invited in," he said.
Henry also contradicted himself that the new command would not entail the deployment of any additional US forces in Africa or the construction of new bases on the continent.
"We want to get out of that business," he said.
The general heading Africom would be appointed before September, but the full command would only be up and running by the end of 2008.