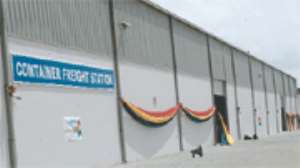 A new container terminal designed to significantly reduce congestion at the Tema Port was inaugurated by President J.A. Kufuor in Tema yesterday.
Dubbed the "Golden Jubilee Terminal" to commemorate the country's 50th anniversary of independence, the facility, constructed at the cost of $15.5 million, will also improve the turnaround time of container vessels which dock at the port daily.
The terminal, which is equipped with modern handling equipment and cargo tracking systems, is said to be unequalled in the West African sub-region.
Inaugurating the facility, President Kufuor said for the past six years the government had initiated various policies and implemented a number of them to develop the country's maritime industry to become a maritime centre and shipping gateway to the ECOWAS sub-region.
In October 2005, an ultra-modern terminal, costing 60 million Euros, was inaugurated at the Tema Port.
President Kufuor said in anticipation of the continued growth in the volume of trade, a feasibility study would be carried out to examine the possibility of constructing one more terminal at the Tema Port soon.
The Minister of Harbours and Railways, Professor Christopher Ameyaw-Akumfi, said the container terminal was meant to turn the port into a maritime hub to contribute to national development.
Already, he said, measures had been taken to improve on security at the port area and institutional reforms had been put in place to minimise bureaucratic bottlenecks in the maritime industry.
The Director-General of the Ghana Ports and Harbours Authority (GPHA), Mr Ben Owusu-Mensah, said with the completion of the container terminal, the GPHA had completed all the strategic action plans it was required to undertake under the Ghana Gateway programme, except the Landlord Port Bill which was still under consideration by the appropriate authorities.
He said the mandate of the GPHA under the gateway programme was to be a trade facilitator and also bring the cost of doing business at the port as low as possible.
Mr Owusu-Mensah explained that it was to achieve the mandate of the GPHA that the new container terminal and other projects had been implemented.
Story by Rose Hayford Darko
& Nehemia Owusu Achiaw