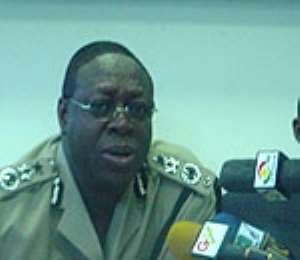 The Inspector General of Police (IGP) Patrick Acheampong has challenged personnel of the Service to endeavour to uphold the tenets of democratic policing and also to improve upon their skills and competence in the performance of their duties.
"The Ghana Police Service cannot, therefore, afford to be left behind otherwise our constitutional responsibility to protect life and property, and uphold the tenets of democratic policing will elude us and the public will not have confidence in the service," he said.
Mr. Acheampong's challenge was contained in an address read on his behalf here at the closing ceremony of a special training course.
The two-week course was on community policing tenets, Domestic Violence and Victim support issues, the role of Interpol in criminal investigations, human rights and domestic policing issues and highlights on the Human Trafficking Act 2005, Act 694.
It was organised by the British High Commission in Ghana in collaboration with the Police Administration for 100 police personnel including 15 officers drawn from all stations in the region.
Mr. Acheampong stressed on the need for "the Police administration to draw plans and programmes that will enable the service to perform its traditional role of protecting life and property, maintain law and order and the democratic governance of the country."
As a corollary to globalization and sophistication, the IGP explained that the internationalization of criminality had become even more complex and organized in nature through the advancement in Information and Communication Technology and Transport.
Aware of the special responsibility placed on the service during next month's Ghana @ 50 celebration and next year's special international events in the country, Mr. Acheampong assured of the Police Administration's preparedness mentally, physically and psychologically to ensure the celebration of the events in an atmosphere of peace, unity, tranquility and harmony.
Mr. Kofi Dzamesi, the regional minister, commended the Police Administration for the improved Police-Public relationship and urged Police personnel to exhibit high standard of professionalism in the discharge of their duties to avoid public criticism.
"Government is committed and dedicated to educate and equip the Police Service to ensure the security of the state," he said, and urged the Police administration to appreciate governmetn's effort through visionary leadership.
Mr. Bernard Dery, Deputy Commissioner of Police and Regional Police Commander, said out of a total of 12,031 reported criminal cases in the region last year, over 10,000 of them were still pending investigation due to inadequate training for 180 detectives and investigators and expressed concern about the situation which he said had been a lapse in policing.
He appealed to the British Government and the Police administration to organise more of such special courses and suggested inclusion of data base management in crime intelligence and motor traffic offence.