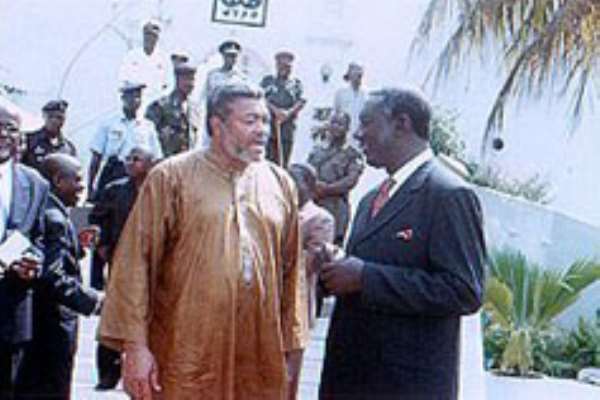 President John Agyekum Kufuor and former President Jerry Rawlings have been urged to use this year's yuletide and the Ghana at fifty celebrations to patch up their differences to help move the country forward. In his Christmas message, the Chief executive officer of African Media Aid (AFRIMA), Raphael Godlove Ahenu said the birth of Jesus Christ represents peace and there was therefore the need to use the occasion to ensure peace among all men.
He said former President Rawlings as a Statesman and President Kufour, the number one gentleman should not be at loggerheads with each other and continue to trade insult at each other to the detriment of the country's development.
Mr. Ahenu noted that forgiveness was very important in the development of every human institution, saying that was why Jesus Christ came to the world as a symbol of peace and forgiveness. According to Mr. Ahenu, the problem of Ghana now was the lack of national cohesion, which is crucial in the development of the country.
He urged Christians, especially the Clergy to use the pulpit to preach peace among the citizenry and also asked them to pray for god's blessings for the nation. In another issue, the Youth President of the St. Joseph Catholic Church at Dumasua near Sunyani, Miss Bernice Amankrahh urged Ghanaians not to use the festivities to indulge in immoral acts, but remember their creator in their youthful age.
She said in an interview with The Chronicle that Christmas was not only merry making but also an occasion meant to meditate about the birth of Jesus Christ who she said is the saviour of the world. She appealed to all Ghanaians to change their attitude towards work from next year in order to increase productivity as Ghana celebrates its 50th anniversary of independence.