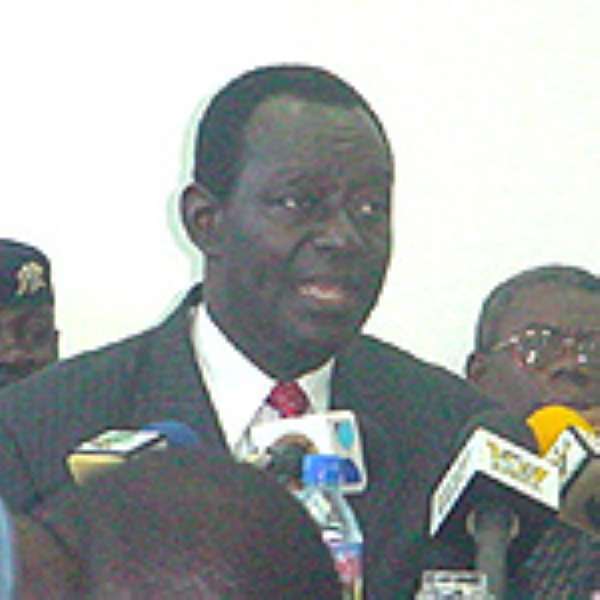 The Defence Minister Dr Kwame Addo Kufuor has once again dismissed calls on him in a section of the media to step aside in the race to be the flag bearer of the New Patriotic Party to contest for the Presidency in the 2008 election because he is the brother of President John Agyekum Kufuor.
The Defence Minister pointed out that unlike in the traditional culture set up where a successor to a stool or skin was picked or chosen by the king makers in consultation with the elders and the Queen mother, "I am going to appeal to the good of our great party numbering over a thousand delegates to vote for me among other contestants to lead them to build on the foundation President Kufuor has established.
Ever since Dr Addo Kufuor made his intentions known at Koforidua a couple of months ago to contest the NPP Presidential primaries many Ghanaians have welcomed this with mixed reaction.
Those who oppose his move for the presidency say that Ghana is not a dynasty and so once his elder brother John Agyekum Kufuor is the current president of the land he must give up his presidential ambitions.
He said it was not logical for anybody to ask him to step aside in his bid to succeed his brother, President Kufuor because the 1992 Constitution did not bar him from contesting, adding that, the NPP Constitution also did not have any clause to stop him from doing so.
"If Richard Kingston and Laryea Kingston are brothers who have been invited to the Black Stars due to their exploits on the football field would you drop one of them because they are brothers," he asked and said "in the political environment my Brother and I have different aspirations".
Dr Addo Kufuor recalled that during the vetting of newly appointed ministers, he went through the process just like any other Minister as the constitution required and did not get any preferential treatment because he is the brother of the President.
The Minister said as an MP he had been able to execute a number of projects in his constituency including the construction of a 20 seater modern toilet, library and a bore hole and provided books to schools in the area among other achievements.
The Ghana Armed Forces has moved from the era of coup d'etat to professionalism and its traditional role of defending the nation against external aggression and will not interfere with the democratic process, Dr Kwame Addo Kufuor, Minister of Defence, has stated.