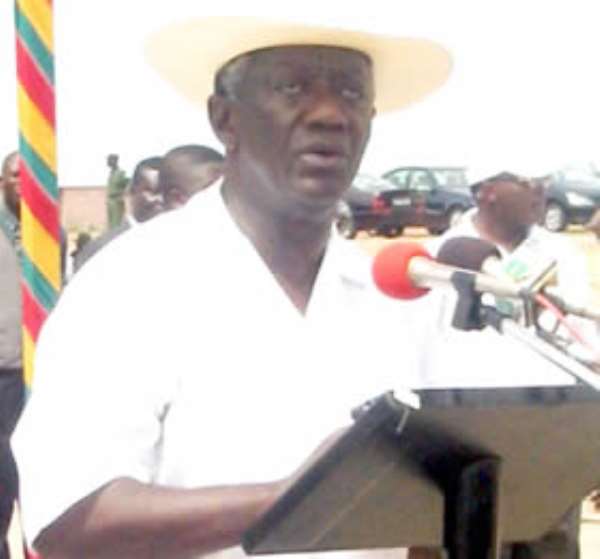 Ghanaians have now begun to demonstrate a growing fatigue for the Kufuor regime and its conceptually bankrupt theory of 'positive change' and governing style. They can now factor as a tradition or a permanent agenda of the NPP, the notoriously entrenched culture of 'Apollo-type' dismissals, refashioned to generate more social and economic distress to perceived political opponents. The cries of over 4,000 dismissed NMP staff, and a couple of hundreds in the Foreign Service, the Civil and Public Services are simply too loud to ignore - history repeated with more venom. Not to mention the medical doctor at SSNIT hospital who lost his job for responding to the failing health condition of his patient, a political prisoner, languishing in the Nsawam Medium Security Prison. The undemocratic and vindictive attempts to dismember leading opposition parties in the past has also assumed a new vehemence with an avalanche of political witch-hunt, spiced with arbitrary and politically humiliating police searches for supposed documents and weapons in the homes of leading and respectable political icons – an unwarranted use of state security apparatus. Searches in the homes of Dr Tony Aidoo – former deputy defence Minister, Nii Adjei Boye Sekan – a former MP, Mr Kofi Portuphy – formally in charge of National Disaster Management, and many other leading opposition figure and party functionaries are only a few cases of misplaced government priorities. How true is it that, 'if the only tool you know is a hammer, you treat every thing like a nail'. The violation of the former Vice President's privacy and the subsequent subjection of his wife, Mrs Naadu Mills, to unwarranted harassment and humiliation can only be hoped to be a thing of the past. Majority of the electorate and some credible social commentators have recounted many attempts at blame shifting for the NPP government's own breath-taking incompetence and failed performances. Like the proverbial - 'giving a dog a bad name and hanging it', the NDC has taken many undeserved knocks with deep-cut wounds, helpless and unable to defend itself and unable to be heard. The NDC has even had to carry the cross for the NPP's decision to enlist the country into the unpopular HIPC initiative. On the lips of most Ghanaians today are the pre-election deceptions, falsehood, and politically mischievous promises that remain unfulfilled. The 'dog-chain' sellers are still waiting for the white-collar jobs they were promised. Unemployment has worsened and Ghanaians have become more impoverished. We haven't yet seen the replacement of the university cost-sharing arrangements, which was a major source of disagreement and a key NPP campaign tool in the run-up to the December 2000 elections. For over three years, the over-trumpeted national health insurance scheme cannot be said to be operational. Neither can fresh graduates from our Universities walk into jobs reserved for them by the NPP Government. It is pathetic we have had occasions when President Kufour had admitted that his criticisms and pledges to downsize government was uninformed – thinking that it is an admission that will endear him to the electorate. Unfortunately that cannot wash. What it does is, confirm the popular opinion that most of NPP's criticisms and electoral promises were not thought through. No more will elections be swayed by over enthusiastic and romantically absurd political promises. Placing airtight lids on internal malfeasance and unleashing skewed 'fast-track court justice' on selected political opponents have also attracted silent international disapproval. The proclaimed 'zero tolerance' level for corruption is, at best, given expression as a 'zero or free entry barrier' for corruption. The 'high' tolerance level for corruption is exemplified by the use of state funds to renovate private residential mansions within days of taking office – simply, a shadow of coming events. Reminiscent of the above is, Dr. K.A Busia's two-year advance salary payment prior to devaluing our currency. We have, thrust upon us, an incorrigible political tradition. Indeed, to change the spots on a leopard, one would have to change its genes, the science of which, remain unknown to humankind. In our case, we will be redeemed by the 'science of the right thumb'. Other acts that challenge the integrity of the NPP regime include the Sahara-gate scandal, the infamous IFC wild goose-chase and its twin case of the supposed Chinese loan currently facing media trials. The VRA saga, the Ministry of Defence aircraft sale myth, the Castle-gate-bamba cover-up 'shambolic' deals, the pregnant case of the Yaa-Naa's murder, and the politically motivated misapplication of the so-called HIPC funds, among others. What about the Non-Ghanaian mother and her twin babies weeping behind the curtains for a prominent Ghanaian father? These are only a few examples crying out for 'the veil to be lifted' - God bless the right thumb, which cannot wait for December 7th, 2004. Signing out the whole country to a flawed USA policy that seeks to circumvent international criminal justice, without chewing the issues on in public, does not only fly in the face of good reasoning but undermines the very tenet and conditionality of the supposed debt reduction strategy for which Ghanaians were led by the nose, panting into HIPC.
Clearly the NPP government rode on the tired 'elephant' to the castle with no plan and no vision for the country. Having 'mastered' the role of an opposition party with the longest experience, they could not come to terms with their new role as a governing party. Worse than been settled in their opposition routines, they were resistant to their new reality – to govern the sovereign state of Ghana. In their predicament, they had no other choice than to embrace the NDC's political concept of 'continuity in change', by adopting and implementing some of the unfinished businesses of the NDC, including strategies long abandoned by the NDC. The blind and faulty judgement in the NPP government's current external financial dealings and strategy of indiscriminate loan requests characterised by poorly considered loan agreements is enough testimony.
While one is inclined to dismiss the conspiracy theory that suggests government has a vested interest in the shambolic weakness of the infamous IFC agreement, a repeat with another questionable lending agency, with an international credit desk in a hairdressing saloon located in London and loosely linked to China, as alleged, calls for political vigilance. This lack of financial discretion sadly combines with a poor economic management capacity led by a finance ministry with disturbing competence and credentials.
The economy is hardly making any progress with the NPP's mistaken policies and unsuccessful implementation of accurate NDC - handover policies, notably on roads, local government, and education. The abuse of government discretion as manifested in the economic policy of radically continuous and sustained upward adjustment in significant tax items including petroleum products and utilities, is having a telling effect on our people. Without any elaborate research and survey, it can be gathered that the dependency ratio in the country has shot through the roof.
Sadly but not surprisingly, we have a government that attempts to snatch a political mileage from a disturbing rise in aggregate foreign remittance over the past three years - a pointer to deteriorating and declining economic and social conditions of ordinary Ghanaians. It beggars belief, however, that President Kufour in an address to a cross section of Ghanaians in the UK (at Broadwater Farm estates - London), sometime last year, announced that the Ghanaian economy is improving under his stewardship. The only support for his assertion was some unprocessed data on the steady and sustained rise in aggregate foreign remittances, particularly from Ghanaians in the UK, to friends and relations back home in Ghana. Obviously this data emanated from the Ministry of finance with little or no interpretation to guide his Excellency the President.
It may be revealing to note that the NPPs economic policy prescriptions have completely eroded the entire middle-class in our social structure. This group has historically held in check, the socio-economic balance of society, providing succour and sustenance for the needy in society and blunting the contradiction that could otherwise; arise between the fabulously rich and those for whom everyday marks a new struggle for survival. This middle class group in our society who are located in prosperous self-employment enterprises, some of our financial institutions, research agencies, civil society organisations, civil and public services, and other professional bodies, are currently reeling and lurching under the weight of ever increasing personal loans, aggravated by consumer credit offers from non-bank financial institutions and other covert credit agencies. It is sad that some of them have not only lost their self-esteem but have joined the lower classes in seeking remittance from friends and relations abroad.
This calls into question the NPPs confused right-wing conservative rhetoric of 'wealth creation' in an economic and social setting where the essential and necessary middle class group is completely eroded. What we have left are two dominant classes - a limited super upper class, consisting of the political elite and lower class that either entirely depend on or occasionally rely on support from relations abroad.
Now let us place the issues in the humbling context of the NPPs chant of 'positive change' - a supposed development concept, which lacks in definition, scope, content and context. What we are witnessing is an amorphously unfolding disaster, which is not waiting to happen but is already HAPPENING!
It is not particularly surprising (but appalling, no doubt) that this brand of change is unknown in theory and practice and has no trace in any political jurisdiction - primordial or contemporary. Whereas academic literature is replete with challenging theories and models of change, the vote winning slogan and illusive concept of 'Positive Change' has become the real source of the NPP's quagmire and quandary. Going back to the drawing board to reform and re-sketch their thoughts on 'change' may well snatch the bane from the burning and restore a limited credibility to the regime before it goes back to its proper place in opposition.
There is no gain saying the fact that the only thing that is permanent in nature is change. It is either, informed and directed by humankind, or occurs independent of our consciousness and cognition. Our ability to initiate or influence the direction, process and speed of change is always a function of our pro-active and reactive response capacity and competence. Furthermore, the implementation of any strategy or change process requires that we develop and communicate a truthful and clear image of the future. Unfortunately, the NPP has found itself soaked and absorbed by its make-belief fairy-tales, characterised by carelessly crafted propaganda, enveloped in tissues of lies and wrapped in malicious falsehood. In the process they have lost their bearing, finding it difficult to sieve reality from orchestrated fantasies. This self inflicted delusion and confusion only serves to diminish their already limited capacity to develop a 'strategic tension' – an idea of where we want to be, or a national vision, and the objective reality of our current state of affairs.
What the NPP has succeeded in doing rather well is to communicate positive change as an end in itself without defining its scope, content, and time frame (doing the wrong thing perfectly well, of cause). Effectively it has created a household slogan that bears no relevance to the popular mandate bestowed on it. For three years it has failed to develop and communicate a comprehensive programme that could give expression to this 'popular' slogan of 'positive change' to salvage its poor and declining perception among the electorate.
As if that is not enough to drag them to the cleaners, the NPP has succeeded in inculcating among a section of the youth a distressing wave of social behaviour and vulgarity with its morally bankrupt alternative slogan of 'Asieho'. Repugnant as it is, we have had it pronounced by leading political figures in the NPP, as well as other unsuspecting youths. What is unethical and inconsistent with our culture cannot be righted politically – it is like changing the graduation on a thermometer to make a fever look normal.
Fortunately, however, the current state of affairs will enable our electorate make informed choices in the coming elections and of course, all subsequent ones. Ghanaians have decided to give 'Continuity in Change' a chance. This winning mantra, which underlie and inspires the shared values of the NDC is deeply rooted in socialist philosophy and is consistent with its social democratic philosophy. It is a concept espoused in the early 19th century and one of the formidable pillars or academic discipline that anchor the socialist political–economy theory.
Ghanaians have decided to pull the plug on JAK and back Atta-Mills to be next President of Ghana. His promise to review the law on causing financial loss to the state stems from a sincere desire to curtail executive interference and manipulation of the law and the system to serve political ends. Furthermore his renunciation of political vendetta offers a ray of hope for the growth of political pluralism and sustained democracy. Atta-Mills represents a new face of the NDC and a complete shift beyond the margins of existing paradigm. His dignified, informed and measured statements, combines with a new vision, an expanded capacity and competence to offer Ghanaians a higher level of focused political leadership consistent with the expectations and demands of our time. Sylvester A Mensah Former MP Dadekotopon Constituency, G/AR Views expressed by the author(s) do not necessarily reflect those of GhanaHomePage.