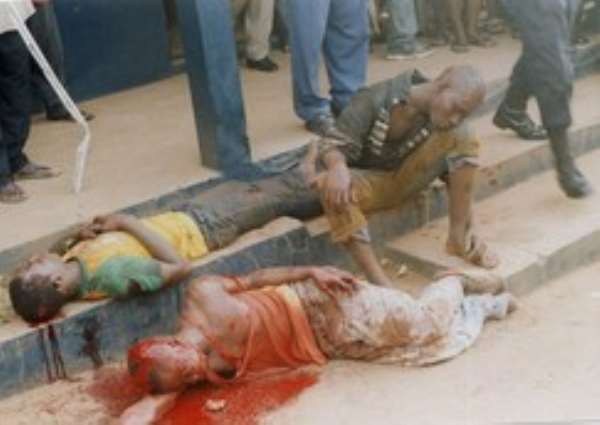 THREE armed robbers who attacked a taxi driver at dawn on Friday were apprehended by some area boys of Kotobabi and beaten into unconsciousness.
The three, said to be wielding knives and other offensive weapons attacked the driver at about 2 am and inflicted wounds on him before stealing the vehicle.
Ibrahim Suleimana, the driver, said a young woman suspected to be an accomplice of the robbers, boarded his cab from the Goil filling station near the Ghana Commercial Bank (GCB) Towers at the Kwame Nkrumah Circle, to the Accra Technical Training Centre (ATTC) at Kokomlemle.
He said the girl paid him and was about to collect her change when four men, he believed who were waiting for her at the ATTC area, pounced on him and inflicted cutlass wounds on him. They then dragged him out of the taxi and absconded with it.
Ibrahim said, he immediately lodged a complaint at the Nima Police station and informed the vehicle owner, of the vehicle, Kweku Sekou on phone,
The vehicle owner who was also driving around town, soon got a call from a friend who he had informed of the robbery, that the car had been spotted heading towards his direction. He said upon that information, he chased and managed to cross them at the Maamobi Junction and the suspects, sensing danger, got out of the taxi and took to their heels.
Mr Sekou said he raised the alarm and some area boys grabbed them.
The suspects who were severely beaten, were later taken to the Kotobabi Police Station and later transferred to the Greater Accra Regional Command.
When contacted, the Greater Accra Regional Police Public Relations Officer, ASP Cephas Arthur, confirmed the story and said they have been taken to the hospital.
He said that the matter will be investigated after which they would be arraigned before court.