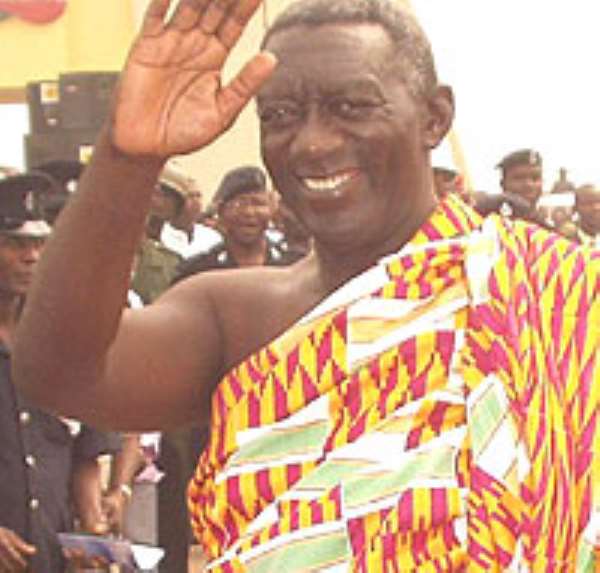 J.A Kufuor
President John Agyekum Kufuor's expected exit from the political scene is bringing tumultuous change to the New Patriotic Party (NPP). With campaign 2007 heating up, some old faces are in retreat, as new figures stake their claim to the NPP leadership. Hackman Owusu, Nana Akuffu-Addo, Osafo Marfo, Apraku, Dr. Addo Kuffour, Effah- Dartey, Kwabene Agyepong, and others, are all gunning for the post of presidential candidate of the NPP. The question is, who's got to get the power of the NPP now? The "general" to watch is a diplo-political-building technologist although some pin their hopes on the Akan elements gunning for the post.
Not to be outdone, the subtly concealed face of Alhaji Aliu Mahama, the Vice President, who is a real "compassionate gentleman", and his political wizardry is brewing up a plan to win the NPP Presidential slot in 2007.
To Alhaji Aliu Mahama, the Vice President, the impending election of NPP Presidential Candidate, is like wintertime for squirrel. For most of his working hours, he has been reaching out with Blackberry messages to the myriad minions he has socked throughout his life as a building technologist and as the Vice President of Ghana.
From the top to the obscure officials in the NPP Administration, there is hardly an appointee who is not an Aliu Mahama acolyte. That is how he keeps the NPP mobilized.
It is also how he maintains his own political security system – hundreds of eyes and ears warning when a rogue may contradict the administration line or go after Aliu's head.
Alhaji Aliu Mahama is among the most respected and loved, among NPP Presidential aspirants. A building technologist more than an ideologue, he quietly arranges issues concerning the party. And more than any of the NPP leadership contestants, Alhaji Aliu Mahama will influence the story of the NPP winning the 2007 elections with the same thud that President John Agyekum Kufuor did in 2003.
He knows the narratives better than any of the contestants, with more than six years service as the Vice President of Ghana. He is both the baton and orchestra in the race for the NPP Presidential candidate and the 2007 elections campaign performance Under his invisible supervision the NPP has turned out goals for most of the nation's deprived areas and the NPP is confidently venturing into former no-go areas.
Even now, the supporters, friends, associates of Alhaji Aliu Mahama (SFAAAM) is canvassing people for him for hot button issues. Where turn out needs a boost, Alhaji Aliu Mahama tailors a message with radio, TV or Presidential visit to press the precinct's button.
Alhaji Aliu Mahama has not spoken on his interest to lead the NPP. But he probably is saying it through the myriad minions and acolytes whose language is Give Alhaji Aliu Mahama the NPP Power Now.