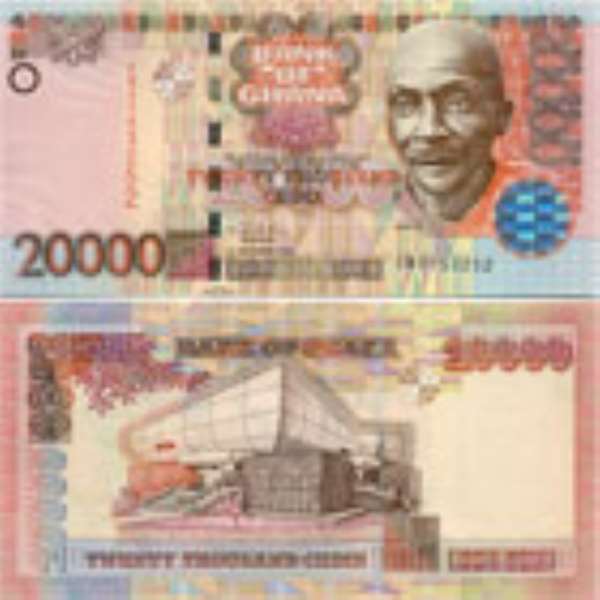 Avenor Rural Bank Makes 178.6 Million Cedis Income Surplus
The Bank could however, not declare any dividends for the period because "The Bank stated capital of 140.3 million does not satisfy the new minimum statutory requirement of 500 million cedis as stipulated by the Bank of Ghana."
These were contained in the Board of Directors Report presented at the 23rd Annual General Meeting of the bank at Akatsi last Saturday. It said between 1998 and 2003 the bank's income surplus had been in deficit. "We at the Apex Bank have noted with satisfaction the significant growth in almost all areas of your operations," Mr E.K. Kwapong, Managing Director of ARB APEX Bank Limited said in an address delivered on his behalf at the meeting.
Mr Kwapong noted that "The general performance of the Avenor Rural Bank in 2005 is commendable indeed" and that "Every area of your operation had improved above 25 per cent," and congratulated the Board of Directors, Management, Staff, Shareholders and Customers of the Bank. He reminded the Management of the stiff competition in the banking industry which required aggressive, prudent but flexible approach to banking in order to stay in business.
Mr Kwapong advised the management to expand its activities in the area of advances and micro-finance to be able to earn higher income, improve the livelihood of beneficiaries and promote development and growth in its catchment area.
He said the expansion of the bank's credit portfolio should be marched with the establishment and strengthening of a well resourced credit/project department to administer a successful credit delivery. "I take the opportunity to exhort you to strengthen your internal control mechanism to ensure that fraud which had been the bane of some rural banks does not creep into the Avenor Rural Bank," Mr Kwapong said.
Mr Kwapong urged management of the bank to ensure that their staffs attend training programmes organised by the ARB APEX Bank.
Mr Emmanuel K. Dzinyela, President of the Volta Region Chapter of the Association of Rural Banks advised member banks to exchange information among themselves to prevent loan defaulters from having a field's day in the region. He called on the banks to screen prospective employees thoroughly and institute internal mechanisms to prevent fraud among their staff.