Phone and Tablet repair CCTV Cameras Laptop repair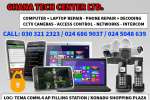 GHANA TECH CENTER LTD. your best I.T. Service Company in Ghana since 2010! We fix everything! L...

At all time endeavour to do the right things. If even you desire to do the wrong thing do it on the sidelines of the good.
By: Alhassan